GDS to PA Exam
GDS TO PA Notification
GDS to PA Exam Syllabus and Question Paper
GDS to PA Exam Notification 2019
GDS to PA Exam Eligibility
GDS to PA Exam Question Paper
GDS to PA Exam Previous Cutoff
GDS to PA Exam Syllabus and Question Paper
Syllabus:
PAPER -1 APTITUDE TEST
Aptitude Test:
The syllabus for aptitude test contains the subjects like English, Mathematics, Reasoning, General Knowledge and analytical ability. The paper will contain the total of 100 questions with 1 marks of each question.  The duration of the exam will be two hours. The total marks for all the subject will be 100. The classification of marks subject wise is given below.
Part 'A' 25 Questions on General Knowledge – Questions on current events, sports, history, geography, basic economics, general politics, Indian Constitution, Science environment etc    (25 marks).
Part 'B' 25 Questions on Mathematics of matriculation standard which may cover number system, simplification, decimals, corrections, simple and compound interest, percentage, average, profit and loss, discount, menstruation, Time & work and time & distance etc. (25 Marks)
Part 'C  25 questions on English covering grammar (prepositions, adverbs, conjunction, direct/indirect speech, singular & plural, tenses, antonyms/synonyms etc. (25 Marks)
Part 'D' 25 Questions on Reasoning and analytical Ability. (25 marks)
Qualified marks
40% marks for OC
37% marks for OBC
33% marks for SC/ST In aggregate.
Minimum 10 marks for OC , 09 marks for OBC , 08 marks for SC/ST candidates in each part A/B/C/D
PAPER-II
TYPING TEST:
Typing test: One passage of 450 words in English / 375 words in Hindi with speed of 30/25 words per minute respectively and Data entry of some figure & letters. CST is of 100 marks and of qualifying nature with minimum of 40% marks for OC, 37 % marks for OBC and 33% marks for SC/ST.
GDS TO PASA NOTIFICATION 2019
(This is Karnataka Circle Notification)
EXAM DATE :16/06/2019.
Timings 10:00 hrs to 12:00 hrs.
Pattern of Examination
Notification GDS PASA 2019

Eligibility Criteria
i) Education Qualification
All GDS belonging to various categories who have the educational qualification of 10+2 or 12th class pass from a recognized university or board of school education or board of secondary education or eligible.
Age Criteria
Crucial Date for each vacancy year
Schedule of Activity

V V ACADEMY STARTS
GDS to PASA Coaching-2019. very soon….
Register Your Names @9985525552.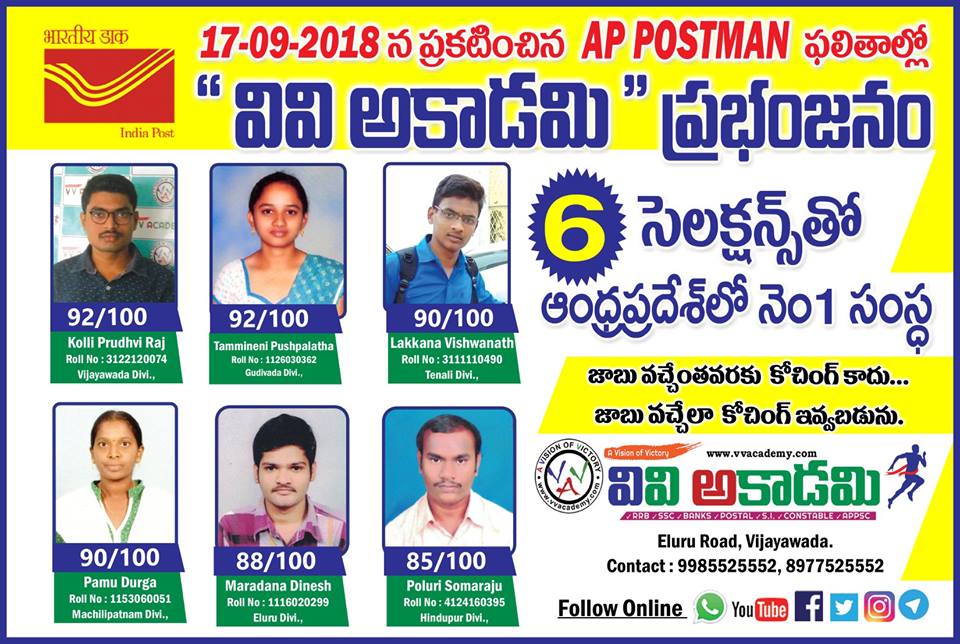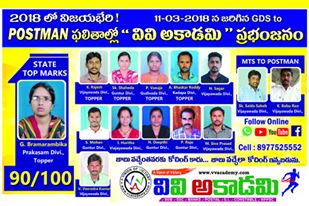 Comments
comments